SB Creative Corp. Provides Intelligent Shelf Solution for Retailers in Cooperation with Intel K.K.~Development of Intelligent Bookshelves for Book Retailers as the First Step~
SB Creative Corp. (headquartered in Minato Ward, headed by Kosei Tsuchihashi) announced the launch of Intelligent Shelf, which is based on Intelligent Label digital signage units for retailers, in cooperation with Intel K.K. (headquartered in Chiyoda Ward, Tokyo, headed by Makiko Eda). As the first step, Intelligent Bookshelves equipped with the Intelligent Label solution will be installed in bookstores across Japan from April 2014.。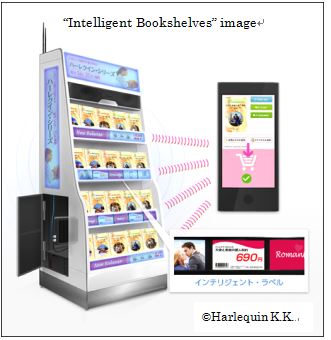 Intelligent Shelf is a futuristic information station service aimed at maximizing the usability of facilities. Merchandising shelves in retail stores, showrooms and museums are turned into Intelligent Shelf units with Intel's Intelligent Label miniature digital signage and information transmitter so they can offer users information about merchandise on display and out of stock items in addition to digital content.
Intelligent Bookshelves developed by SB Creative Corp. will be used by Harlequin K.K. (headquartered in Chiyoda Ward, Tokyo, headed by Akihiko Tachiyama) as dedicated bookshelves in bookstores throughout Japan. The fixture is intended to transmit a variety of information concerning print books on display, relevant series, backlists, upcoming titles and the retail store news. Equipped with a short range communication device, Intelligent Bookshelves have machine-to-machine (M2M) communication capability, which allows for interactive communications. For instance, an Intelligent Bookshelf can transmit sample pages from digital books or information of upcomingtitles to users' devices such as smartphones. The aim of the service is to provide bookstore customers with the maximum amount of information by linking digital and print books in a physically limited retail environment with the greatest convenience and enjoyment.
In appreciation of the development of Intelligent Bookshelf, Kosuke Hirano, the general manager of Cloud Computing Department, Intel K.K. stated, "Intel K.K. welcomes the development of "Intelligent Bookshelf" by SB Creative Corp. using "Intelligent Label" based on Intel® Retail Client Manager, a digital signage solution that can manage contents in real time. Intel® Core™ vPro™ processor used in Intelligent Bookshelf will allow for efficient and high value service. By providing rich branded experience to targeted customers, Intelligent Bookshelf will reinvigorate bookstore environment and provide additional value and new customer experiences."
Akihiko Tachiyama, the representative director of Harlequin K.K. commented, "We are greatly honored to see our retail bookshelves play a part in this very first project between SB Creative Corp. and Intel K.K. Until now, we could only distribute a limited amount of information in retail stores. With Intelligent Bookshelf, however, we will be able to communicate with our readers interactively and will be better-equipped to serve readers' needs."
Having offered a number of digital signage services, SB Creative Corp. will continue to develop new products and offer related services.

■  What is Harlequin?
Novels by Harlequin have been translated into 33 languages and sold in 110 countries. Harlequin launched in Toronto, Canada in 1949 and has over 1,300 talented authors worldwide. Harlequin K.K. in Japan publishes more than 30 titles per month and has published more than 15,000 titles.
Harlequin official site: http://www.harlequin.co.jp/
Leveraging the Japanese manga culture, Harlequin K.K. has been publishing comic books and magazines based on Harlequin novels for many years
Harlequin Comics: http://www.harlequin.co.jp/hqc
Corporate Information
Company: SB Creative Corp.
Address: 2-4-5 Roppongi, Minato Ward, Tokyo
Headed by: Kosei Tsuchihashi, Representative Director and President
URL: http://www.softbankcr.co.jp/
Establishment: March 24, 1999 (business under the current name since August 2013.)
Capital: JPY 100 MM
Main Business: Digital content business, publishing, and project based production work
Company: Intel K.K.
Address: 5th Floor, Kokusai Bldg, 3-1-1 Marunouchi, Chiyoda Ward, Tokyo
Headed by: Makiko Eda, Representative Director and President
URL: http://www.intel.co.jp/
Establishment: April 28, 1976
Capital: JPY 480 MM
Main Business: Semiconductor products, technology R&D, and sales
Company: Harlequin K.K.
Address: Akihabara-Sanwatoyo Bldg. 3-16-8 Sotokanda Chiyoda-ku, Tokyo
Headed by: Akihiko Tachiyama, Representative Director
URL: http://www.harlequin.co.jp/
Establishment: November 11, 1988
(Initially established as a Japanese office of Harlequin Enterprises Limited in September 1979.)
Capital: JPY 100 MM
Main Business: Publishing and sales of translated novels and comics
Media Contact Information
Entertainment Contents Business Division, SB Creative Corp.
TEL:03-5549-1260
Email:bbinfo@cr.softbank.co.jp
Information
SB Creative Corp. Provides Intelligent Shelf Solution for Retailers in Cooperation with Intel K.K.~Development of Intelligent Bookshelves for Book Retailers as the First Step~